Introduction

Certain machine vision applications place very specific demands on the vision system. If the object to be pictured keeps moving and you have high demands over continuous high-resolution imaging, it is suggested that you should apply line scan camera; if you would like to capture moments during car crashing tests, high speed camera would be your best choice due to its specialty. There are hundreds of such examples, then I don't list them here one by one. Those are just some common cameras or lenses that we usually apply in some certain applications. But there are always some tricky situations happen where ordinary lenses cannot come into play. For instance, what if you have to inspect defects of tiny bottle caps, or interior conditions inside a tube, or your customers place extremely high requirement on the imaging resolution, I believe special lenses are the best choice for special conditions.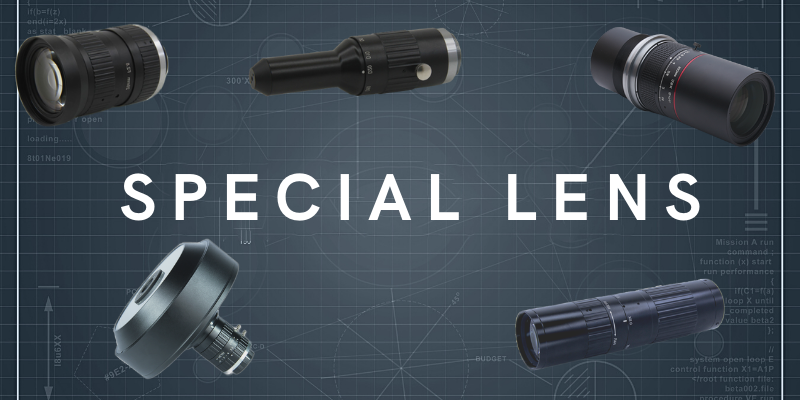 Virtually, special lens is not very common compared with other lenses. But when it comes to some tough situations, those ordinary lenses then may be on strike or just show a little effect, which cannot really work it out. That's the reason why some lens manufacturers come up with such an idea to develop some special lenses. Then you may wonder what kinds of special lenses are there and what it looks like, most importantly, which scenarios it can be applied to.
360° imaging system (outer surface)

First of all, there are two kinds of 360° imaging system, one is for outer surface and the other is for inner surface. With regard to 360° imaging system (outer surface), it is applicable for 360° side view imaging for small objects. As it is designed to be compact and with high resolution, the lens is suitable for inspecting drug containers, plastic caps, preforms, bottlenecks, screws and other threaded objects. Furthermore, pay attention, the minimum diameter of object to be inspected is 4.5 mm (outer surface).
360° imaging system (inner surface)

With integrated LED light source, 360° imaging system (inner surface) is designed to highlight the tiny defects of the detected objects and it can detect tiny defects from a super wide angle of view and clearly detect hidden features and defects. As a result, it suitable for the objects whose internal features can only be inspected through the inner surface inspection lens, such as engine parts, containers, pipes, etc. with super large depth of field.
High resolution line scan lens

In comparison with line scan camera, high resolution line scan camera can shoot pictures of better resolution which can reach up to 1μ, and the distortion will be below 0.001%. The lens matches 16k5μ and 3.5μ line scan camera. It is applied to OLED screen detection. For the field of industry, it is used to detect blemishes and stains of the steel plate; presence test, defect detection, counts of micro chips for electronic components and so on.
Vari-magnification telecentric lens

The vari-magnification telecentric lens does not need to change the working distance. And the magnification can be continuously adjusted from 0.5* to 2.0*. With the bi-telecentric optical design, the telecentricity is <=0.05° under full magnification range. The TV distortion is less than 0.05%. Motorized control is optional. So the lens is widely used in electronic, semiconductor and other industries that require high precision. For instance, measurement of some electronic devices or detection of blemishes and stains of pistons.
3CCD lens

3CCD lens is especially designed for 3CCD camera for defining color reduction. The working distance is from 0.4m-2m. The most outstanding feature of the lens is its great sensitivity to color, so it is widely applied to projects with high requirements on color in the field of electronic devices and components, textile, food, such as sorting, color distinction etc.
Conclusion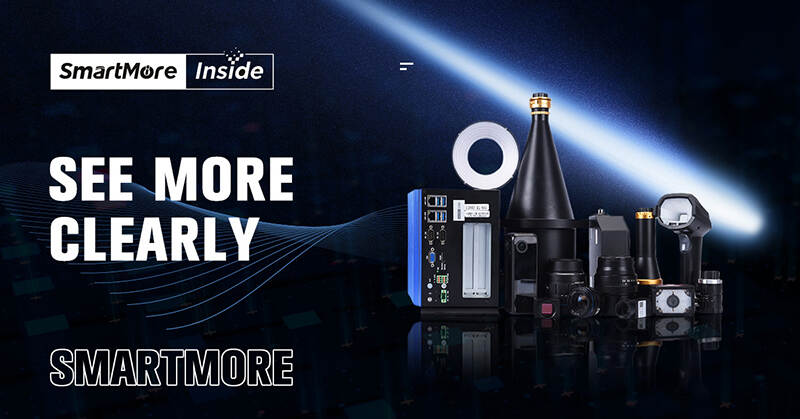 In reality, we always confront various types of applications, so we have to grasp a deep understanding of what those lens can do and what we need before choosing lenses. As a special being among the big family of lenses, special lens can help us in addressing many tough problems that shrivel ordinary ones and seeing the unseeable. So if you are right now distressed by similar matters, SmartMoreInside should definitely be your prioritized consideration. With 20 Years of in-depth research-based innovation experience, SmartMoreInside laid the foundation to deploy software algorithms to integrated products. It provides a wide range of professional offerings, which can help to transform your business with smart technology. For more information, click here.