1/4
Embedded Industrial PC | SMI-EIPC-04
Quick Details
Supply Ability:
5000 piece per month
Product Description
1. Optional CPU model
The optional Intel package is FCLGA1151 6th/7th generation series CPU, which can flexibly adapt to customer's product needs.
2. Optional memory capacity
The memory adopts the memory slot scheme, which is suitable for conventional DDR4 notebook memory modules in the market, and flexibly adapts to customers' needs for memory.
3. Fully sealed, fanless design
The entire chassis adopts a combination of aluminum alloy and sheet metal structure to eliminate noise and prevent dust. The aluminum alloy fin heat dissipation design increases the passive heat dissipation effect by 50% compared with the previous traditional design.
4. The interface is more complete
The interface includes 1*HDMI, 1*VGA, 2*LAN, 4*UBS3.0, 2*USB2.0, 4*3-wire RS-232, 1*RS-485, 1*spare extension switch.
Product Feature
◆Intel Kabylake/Skylake Core I3/I5/I7 FCLGA1151 series CPU
◆DDR4-2133/2400MHz SODIMM memory design, up to 16GB
◆1*2.5 inch SATA3.0, support 2.5 inch hard disk
◆HDMI+VGA dual display mode, support 4K display
◆2*Intel I211-AT 10/100/1000M network port
◆4*USB3.0, 2*USB2.0 (built-in)
◆4*3 lines RS-232, 1*RS-485
◆Built-in 1*MINI PCIe slot, support mSATA
◆Built-in optional 1*MINI PCIe slot, support 3G/4G/WIFI module
◆DC 24V power supply, with anti-reverse connection and over-current protection
◆Aluminum alloy and sheet metal shell, fanless cooling design.
Specification
System Hardware

processor:

schema:

Skylake

Kabylake

model:

G4400

I3-6100

I5-6400

I5-6500

I7-6700

G3930

I3-7100

G4560

kernel:

2C2T

2C4T

4C4T

4C4T

4C8T

2C2T

2C4T

2C4T

main frequency:

3.3Ghz

3.7 Ghz

2.7Ghz

3.2Ghz

3.40Ghz

2.9Ghz

3.90Ghz

3.30Ghz

cache:

3MB

3MB

6MB

6MB

8MB

2MB

3MB

3MB

Power consumption:

54W

51W

65W

65W

65W

51W

51W

54W

RAM:

260-Pin DDR4-2133/2400MHz SODIMM single-channel memory, can support up to 32GB

operating system:

Support Win7/Win10/Linux and other systems

CHIPSET:

H110

Graphics card:

Collection display

BIOS:

AMI BIOS, support to modify the boot LOGO function

Watchdog:

Support 256 levels (0~255), programmable

power supply

powered by:

DC IN 24V, the default shipping configuration is 24V/4A power adapter

Start method:

The default power-on self-start (the trigger boot mode can be customized before leaving the factory)

switch I:

/

Switch II:

/

Power switch:

1 push button switch for power indicator

Display function

Display Mode:

1 standard DB15 VGA interface, the maximum resolution is 1920*1080

1 standard HDMI interface, the maximum resolution is 4096*2304@24Hz

Backup restore

One-click backup (Backup):

1 90-degree double-layer touch button

One-click recovery (Recovery):

Indicator light:

1 green backup and restore indicator

panel ,I/O,interface

Storage I:

/

Storage II:

/

Serial port I:

1 standard double-layer DB-9 socket, default is 4 3-wire RS-232

Serial port II:

1 RS-485

LAN:

2 Gigabit Ethernet ports

USB-I:

4 USB3.0, the recommended USB interface cable length should not exceed 6 meters

USB II:

/

Power interface:

1 2PIN Phoenix terminal

Remote/trigger switch:

1 trigger switch interface (ie backup switch, remote switch)

Built-in/Standard/Interface

Storage I:

1 7+15PIN SATA3.0 interface (2 SATA3.0 optional before delivery), support 2.5-inch hard disk (128GB/256GB/500GB/1TB optional)

Storage II:

1 mSATA slot, support mSATA (capacity 64/128/256/480/512GB optional)

USB II:

1 single-layer heightened USB2.0, can be connected to a dongle

1 USB2.0 pin

Optional RS-232:

1 built-in optional male 3-wire RS-232

DIP switch:

PIN1: Power-on self-boot ON or trigger boot OFF

PIN2: Clear CMOS

Electrical Characteristics

Operating temperature:

-20℃~60℃

storage temperature:

-40℃~85℃

Relative humidity:

5%~90% non-condensing

Power consumption:

16.8W (Standby@24V/0.7A), 62.4W (Max@24V/2.6A)

Structure

Installation method:

Horizontal bracket installation (default shipment), vertical bracket installation

size:

Horizontal

238*216.65*89.59mm(L*W*H)

Vertical type

238*81.68*193.13mm(L*W*H)

weight:

About 3.7KG

Certification

Relevant certificates:

CE,FCC,ROHS
Structure Size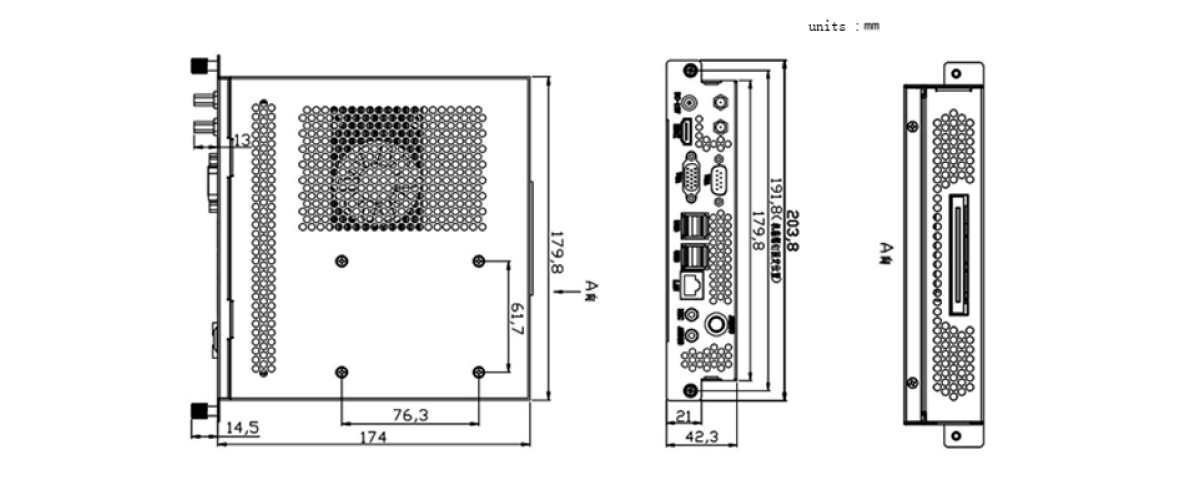 Easy Handling of Various Occasions