Introduction
The fourth industrial revolution has begun, and everyone has a chance to get involved in. From the first revolution marked by the advent of steam engines, to the wide application of electricity that dominated the second or even the emergence of computer driven systems from the third revolution that we're living in today. Industry 4.0 is about connectivity. It is advancing a smart interconnected pervasive environment. There are 9 pillar technologies that make up the bulk of the manufacturing process in the new paradigm, including big data and analyse, autonomous robots, simulation, horizontal and vertical system integration, industrial internet of Things (IIoT), Cybersecurity, the Cloud, additive manufacturing, augmented reality. Industry 4.0 is radically changing the mode of manufacturing, improvement and product distribution of the companies. Manufacturers who are aggressively seeking innovations integrate new technology into their production facilities and the whole operation procedure. Those smart factories are equipped with state-of-the-art sensors, embedded software and robotics agents, collecting and analyzing data to make a better decision. Through establishing contacts among ERP, supply chain, customer service and other enterprise operation system, information isolation is broken down so that people are empowered to take a smarter insight into the whole system and make higher value.
Challenges and Solutions
Everyone can feel the impact of industry 4.0 acutely, but few have access to enjoy the benefits. To understand what difficulties we are facing is a top priority. Nowadays, especially in some companies with refined architecture, each staff only focuses on his own responsibilities. While multiple departments, divisions or organizations are required to work together if they want to realize industry 4.0. And insufficient talents who can master knowledge of digitalization need to be paid attention too. As an enterprise that has been delving into machine vision for decades, Smartmore is quite sensitive to the pain point of the market. SMore Vimo was born at the right moment. SMore ViMo is a set of industrial vision end-to-end solutions, mainly consisting of two major system platforms: model training and model running, which can provide the whole process, one-stop and management capabilities for industrial manufacturing and create a standardized delivery system for intelligent manufacturing.
ViMo model training platform trains algorithms for complex scenarios such as material tracking, defect location, workpiece counting, multi-category appearance defect detection, etc. ViMo model running platform imports the models generated by the training platform and deploys them directly to the production line, seamlessly docking with the production line equipment to achieve real-time inspection.
The deployment of SMore ViMo does not require on-site programming by algorithm personnel, but only requires simple operations such as mouse clicks to complete the training and deployment of the model, which can be applied to industrial production lines to improve production efficiency and realize the numerical upgrade of traditional manufacturing industries.
The solution can be widely used in many fields such as consumer electronics, automotive, new energy, and pan-industrial, and has already provided services for many Fortune 500 manufacturers.
Core algorithm function
SMore ViMo unites the research results of 20 years of advanced technology by the core team of SmartMore and provides 4 core vision algorithm capabilities for the industrial field, such as product diversification and fast product update cycle.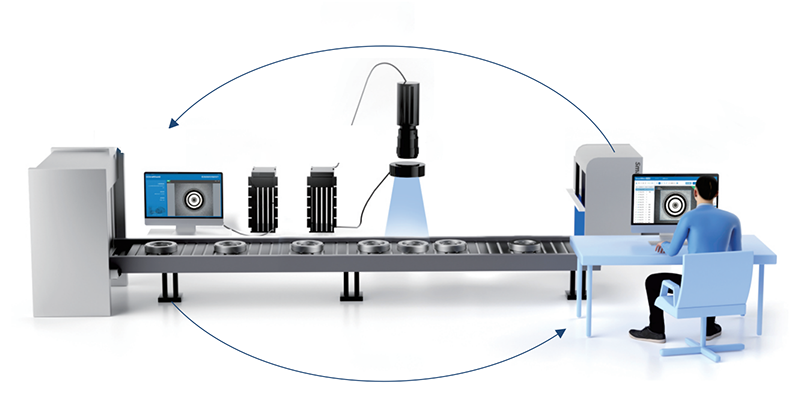 OCR
Adopt end-to-end solution based on technology precipitation, support single character and multi-character standard and recognition, which can recognize different background characters, such as steel print, laser engraving, printing, textile, etc., break the technical limitations of traditional methods, solve the complex problems of curved character recognition, low contrast character recognition, larger character recognition, etc.
Detection
Locate and classify the targets in the detected materials, applicable to multi-target detection, small target detection, counting, etc., such as solving the scenarios of drug pill counting, 3C device detection.
Classification
Classify and judge the detected objects. Such as OK/NG secondary classification judgment of materials, detection object color, food material type, 3C defect sub-classification and other issues.
Segmentation
Fine to pixel level detection and edge recognition of detection objects. Such as identifying cracked areas of silicon wafers, bruised areas of bearings, etc.
Advantages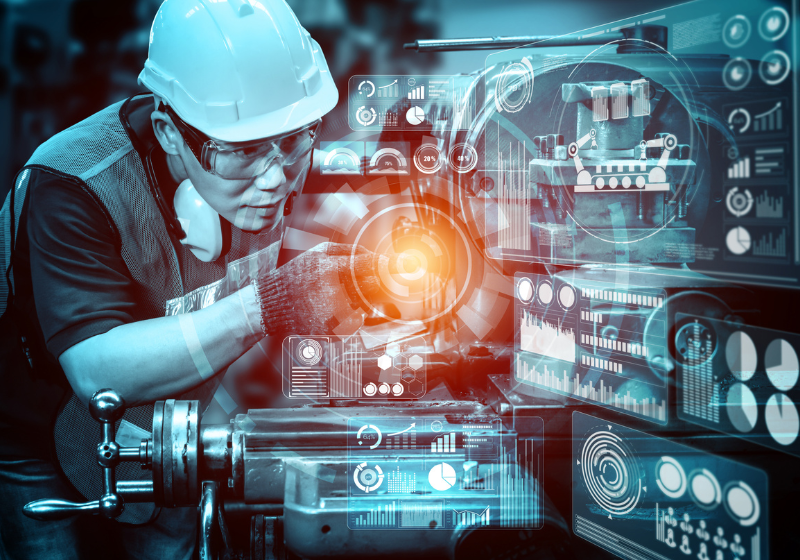 Industry 4.0 benefits include greater production and efficiency as a result of mechanisation and automation of regular operations, which are completed with precision thanks to the use of sophisticated 3D modeling techniques or simulation. The workload can be distributed among staff, giving them extra responsibilities that are specialized in particular fields. The system's interconnectedness also allows for remote business monitoring from your home and hassle-free data sharing with coworkers and employees for analysis. It might also improve the overall culture of the business. Last but not least, it will cost some money to invest in Industry 4.0 technologies at first, but after the systems are completely integrated into your business, you will see total costs drop because of better resource management thanks to data analytics, increased productivity, decreased product waste, and decreased production downtime.
Conclusion
A new way of thinking about industrial processes is already taking place with Industry 4.0. To survive in the new, fiercely competitive marketplace, manufacturers and product designers must incorporate IoT software, data-driven analytics, and connectivity. There is never a better time to begin incorporating smart manufacturing into your company's production chain than right now. If you are eager to know anything about industry 4.0, please feel free to contact us.