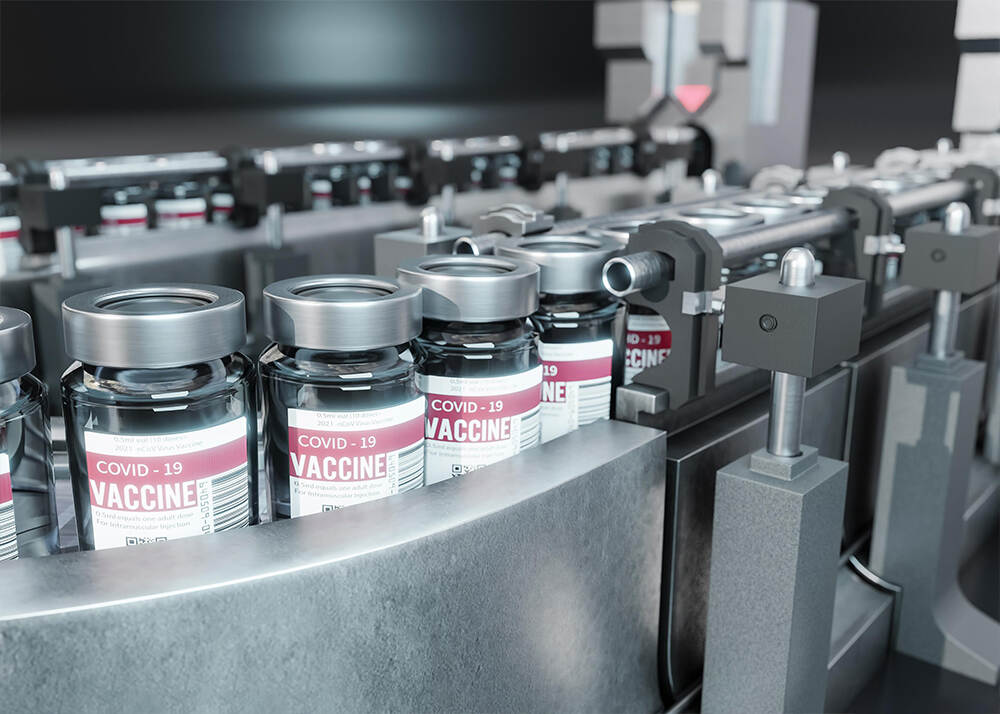 Nowadays we are living in turbocharged commerce and next-level consumer expectations, which has made almost all the production lines complicated. The pharmaceutical industry is no different. Incited by the high standard and strict quality requirements, pharmaceutical manufacturers are now under great pressure to guarantee product integrity and safety. In this way, the manufacturers need a powerful assistant to help them be more efficient in the production line. That's how machine vision comes out and greatly digitalizes the pharmaceutical industry.
What is Machine Vision?
Machine vision is a broad technology that includes both software and hardware. Equipped with a set of optical devices, machine vision is able to expand its horizons to various industries. Compared with conventional machine vision products, today's machine vision systems possess built-in algorithm modes to better operate solutions thanks to rapid progress in technology. In other words, machine vision provides industrial equipment with the ability to see more detailed information that naked eyes are not allowed to. The most common utility of machine vision is the detection, positioning, sorting, and tracking of products.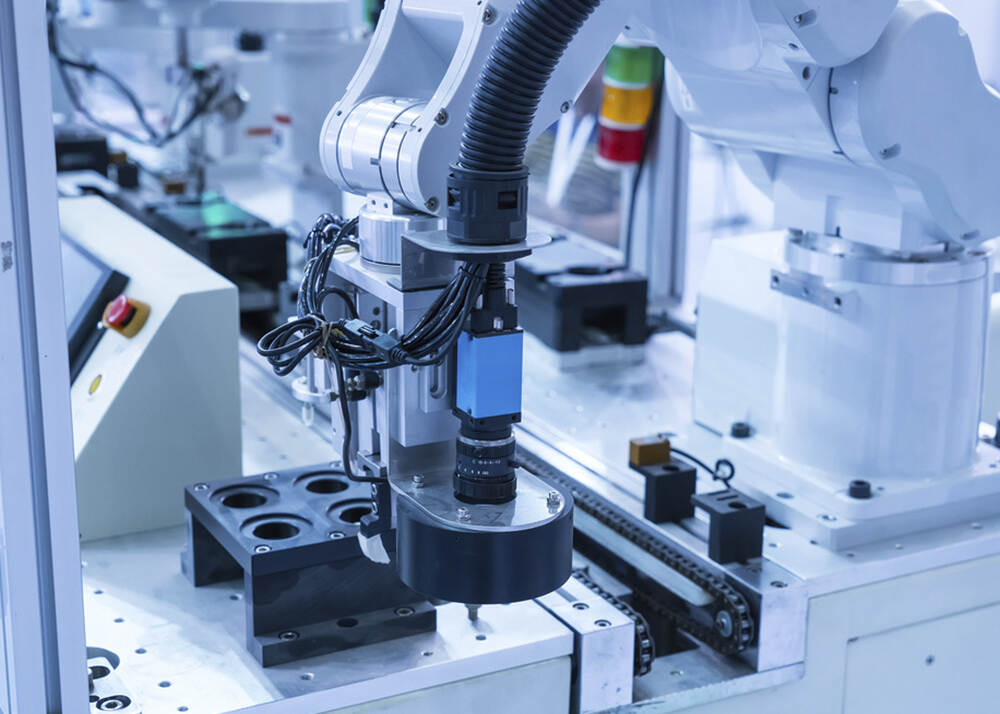 4 Ways Machine Vision Helps Pharmaceutical Industry
Now that we have acquired a basic understanding of machine vision, let's move on to see further information about the 5 functions that machine vision really helps the pharmaceutical industry.
Safety Inspection
It is widely known that medical safety is closely related to human health, which means that medicine on the production line must be inspected strictly in order to remove foreign objects. According to this issue, machine vision, equipped with a set of smart devices and built-in algorithms, is able to detect the material that is not noticeable to the human eye. By doing this, machine vision can help manufacturers reduce labor costs and optimize operations, reaching a situation that requires fewer costs but more licensed medicine. Most importantly, harmless medicine is able to help manufacturing business avoid potential lawsuits and negative media comments, thus leading to mutual benefits between customers and manufacturers.
Labelling
Different medicines bring different effects to human body, meaning that various ingredients may pose allergic reactions or other harmful effects to people. Based on that, pharmaceutical manufacturers need to guarantee that every medicine is correctly labeled and put in the right place. Machine vision can inspect mislabeled products and alert workers to correct before sending to the store. In addition, machine vision can find some damaged, wrinkled and misaligned labels, which can better present a good appearance of package.
Packaging
Label is usually associated with packaging. With machine vision products, the package can be easily tracked and put in the correct place, so that patients can see it on store shelves according to their needs. Besides, machine vision system can also identify the recycled packaging material to ensure they have been dealt properly.
Tracking
In pharmaceutical industry, it is common that medicine and other medical products should be tracked along the way to drug stores and hospitals. Besides, manufacturers are also be responsible for the whole purchasing process that relating to patients' possession in case of any harmful side effects. In this way, machine vision solutions can assist manufacturers with information detecting function during the whole process. Manufacturers can take full advantages of the machine vision software to make sure that their information are instructed and accurate, thus leading to a better relationship of patients. Besides, accurate information tracking can also help them receive lots of suggestion and steadily improve their pharmaceutical system.
What can SmartMoreInside do to Help Pharmaceutical Industry?
Machine vision system really leverages in the pharmaceutical industry by inspecting and tracing. Specifically, there is a famous machine vision hardware&software provider named SmartMoreInside to better help pharmaceutical manufacturers be more accurate and professional.
SmartMore Vimo
SmartMore Vimo is an optimization software platform, providing a set of vision inspection solutions. By using SMore Vimo, the manufacturers are able to experience various smart services, such as OCR, detection, segmentation and classification.
Equipped with an advanced imaged-based algorithm, SMore Vimo can easily track every medicine on the production line and inspect the detection that the human eye fails to notice. This kind of high-end technology usually carried a set of machine vision products, and offers a way to inspect the whole process, from production to packaging. Its special OCR function can detect some foreign objects or harmful materials that exist in the product. Besides, its powerful data management can ease manufacturers from massive misled information, as the date-dealt ability supports a large number of drugs moving in a fast-paced production line.
After the link of production, SMore Vimo also plays a key role in packaging, as it is able to track whether the labels are correct or not, and then warn the workers to correct them, thus leading to effectiveness improving and fewer labor costs.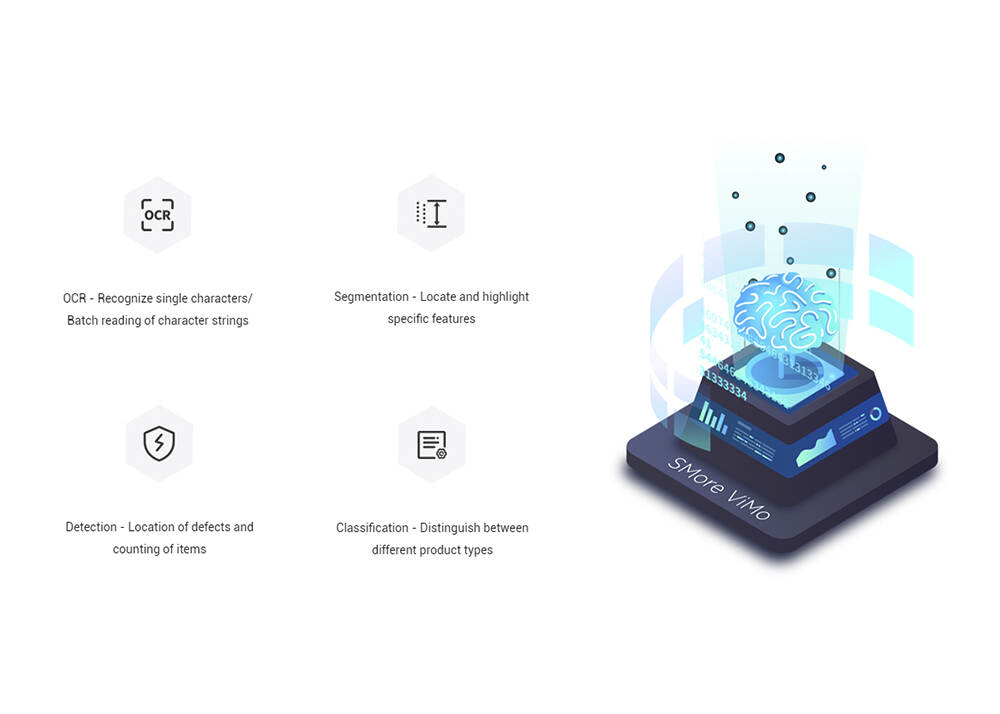 Other Machine Vision Products
As we mentioned before, using SMore Vimo with various machine vision products is the perfect portfolio for vision inspection. SmartMoreInside also provides other machine vision products to help manufacturers, such as 2D cameras, 3D cameras, barcode scanners, and so on. With their flexible collaboration, it is easy to alter the conventional modes of factories and help them reach to digitalization, thus leading to mutual benefits between customers and manufacturers. In this way, equipping your factory with advanced machine vision products is a tendency to follow. If you want to know more details of machine vision applications and find the best solution according to your needs, welcome to look up our SmartMoreInside official site.
Choose SmartMoreInside to be Your Solution Provider
Nowadays, many machine vision companies are gaining momentum in the industrial field. Depending on that, it is important to choose one that better suits your needs. SmartMoreInside, an industrial-leading hardware&software supplier, has received lots of good comments and helped hundreds of manufacturers to reach digitalization with smart equipment, exclusive algorithms, robotics, and so on. If you are interested and have any questions, don't hesitate to visit SmartMoreInside and contact us for more detailed information.